This New Year I took a resolution to change a lot of things that I had done wrong last year. After all its 2010, time to turn over a new leaf. While we make new promises to ourselves that we strive to keep, our beloved fashion brands around as, that our a part of our daily lives strive to do so too. Some might have got it wrong, some might just be improving on their existing image. Whatever it might be, 2010 is a year for improvements and bright changes.
Fortunately for us the phrase "Customer is the King" hasn't gone out of fashion yet as our trends in apparel or accessory do. M&S, short for Marks and Spencer decided to do things differently this year. The largest British retailer and the 43rd largest in the world it continues to please its customers with its changing brand advertisements.
Steve Sharp, Executive Director for Marketing said: "Virtually everyone loves M&S – I've certainly never met anyone who doesn't – and everyone has their favourite things. But sometimes people need a bit of a justification to buy it. With the new ads we're showing what it is that makes it better and why it's special by focusing the ad on our quality, provenance, price, innovation, ethics and offers." (Source for quote:
http://www.fibre2fashion.com/news/fashion-news/uk/newsdetails.aspx?news_id=83888&page=1
)
M&S hasn't always been riding high on profits or in minds of the consumers. Competition from fashion retailers like Topshop, H&M and Zara have knocked them off their position through the years. Their policy of not changing their designs to keep up with the changing fashion trends caused their downfall. They concentrated on quality, but as the consumer is fickle and buys clothes that are in trend it affected their sales. Through a survey it has been proved that a consumer only wears a particular design/trend for one season only and thus quality has been handled on that front. But M&S needed to make their designs more trendy to suit the consumer's needs, when television sets and hoardings are blasted with ever changing celebrity and fashion trends.
Starting from late 1990s it faced a period of decline and in 1999 the pre-tax profits of M&S reached £655.7million as compared to £1114.8million in 1998. But it began its revival from 2007.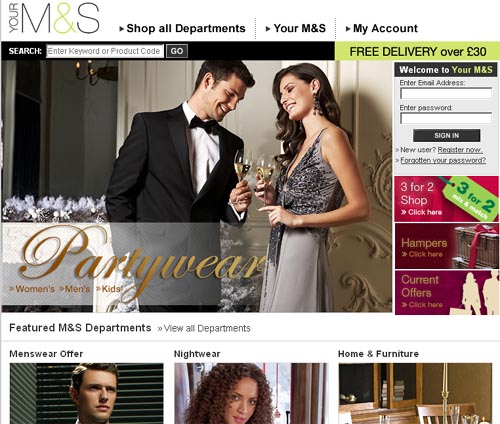 But as the saying goes, better late than never. This year M&S' s new approach introduces a number of new faces for the Clothing ranges with only Twiggy remaining from the previous line up. She is joined by Brazilian model Ana Beatriz Barros, singer and model VV Brown, X factor judge and singer, Dannii Minogue and Capital FM breakfast show presenter Lisa Snowdon. The new face of M&S menswear is former footballer and face of Sky Sports Jamie Redknapp. "We've had huge success with the advertising campaigns over the past few years and we know from what our customers tell us that they have really loved them. But it's important to keep looking forward and to move on. The new campaigns build on the success of the Quality Worth Every Penny strapline we introduced last year to celebrate our 125th Birthday and demonstrate the amazing value and quality M&S consistently offers across everything we sell – from knickers to chocolate to that perfect summer dress." - Steve Sharp, Executive Director for Marketing.
(Source for quote:
http://www.fibre2fashion.com/news/fashion-news/uk/newsdetails.aspx?news_id=83888&page=1
)
As you can see the advertisement seems fun and promises to bring in the crowds to the M&s stores. It focuses on key trends of the season, how to put outfits together, be it for the day or night. Their new ad comes as a breeze of fresh air for the Spring-Summer season translating its
motto of working your wardrobe this season. According to further information released by the company
Jamie Redknapp will be the new face across all the ranges for the next year including Blue Harbour and Autograph brands and will feature in a his first print campaign launching in May. Model and boyfriend of Dannii Minogue, Kris Smith will feature in a one-off Summer menswear print campaign, also launching in May.
Here's hoping that this new marketing strategy will definitely work in favour of the brand this year. After all in the world of fashion and advertising, nothing stays put for too long.
(Images courtesy: Google Videos: Youtube)
Ciao